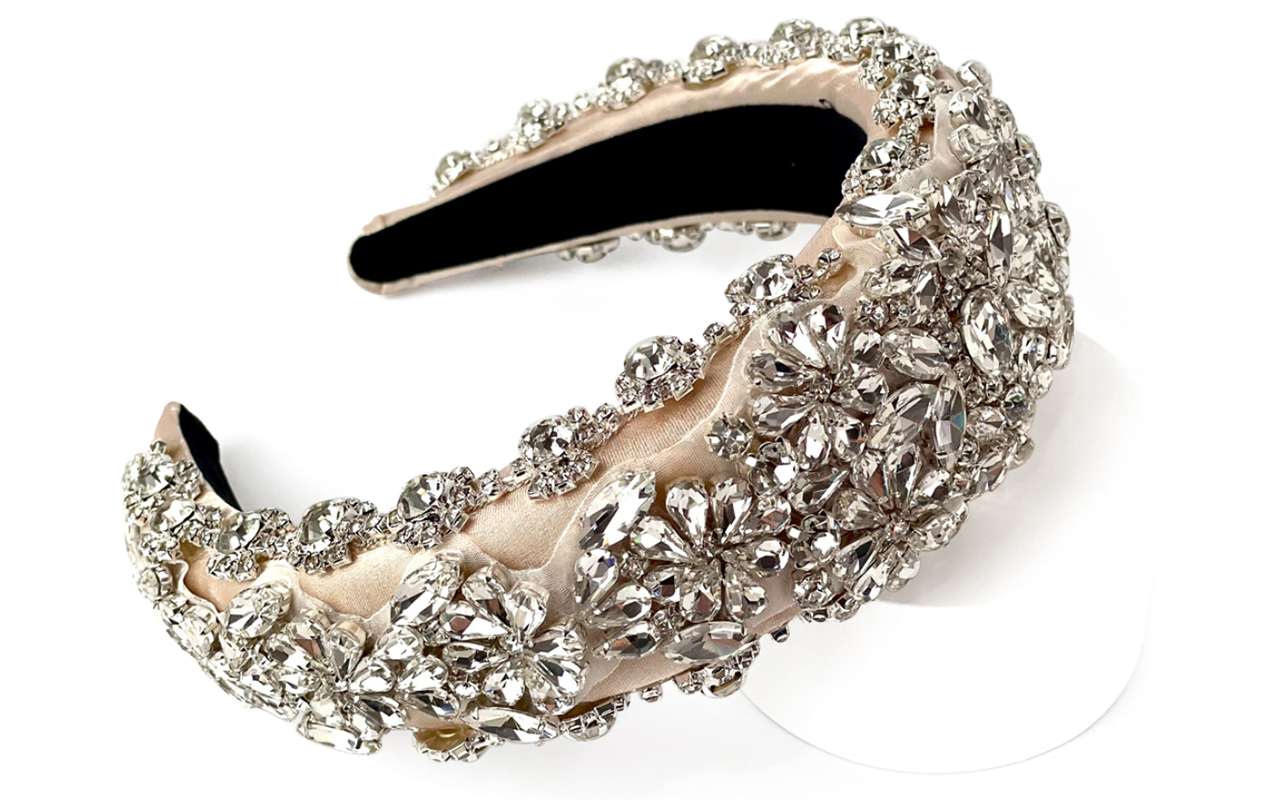 It would help if you had a wedding headband to compliment your dress and hairstyle
Your wedding day is a chance for you to look and feel like the most beautiful woman on the planet. It's entirely natural. As a bride-to-be, you obviously put much thought into your wedding gown, shoes, and makeup. Accessories such as jewellery and hair ornaments, and accessories should not be overlooked. The accessories are what bring the whole look together and make it feel complete.
Do you know what hairstyle you'll wear on your wedding day but aren't sure how to accessorise it? Headbands and crowns for weddings are a great option. It's a trendy accessory that's gained much traction in recent years. This is not surprising because it can help you stand out in a crowd.
How to match a wedding headband to a wedding dress
The wedding headband should match the style of the wedding gown. Pay close attention to the colour of your dress, as well as the embellishments and jewellery you've chosen. You must match the colour of your headband to the colour of your dress. If you're wearing a cream-coloured dress, the headband can't be too white. It should be related to one of three elements: your dress's colour, embellishments, or jewellery.
If your gown is entirely made of pearls, no rhinestones or crystals should be used on your headband because they will clash with the gown. Then there are headbands made entirely of pearls. AXESSI has a variety of headbands to choose from, such as a pearl crown headband or a micro pearl headband.
If you want to match the headband with jewellery, keep in mind that the one-colour rule still applies. Gold jewellery, such as a gold alloy leaf headband with diamante embellishment. If you're wearing silver jewellery, the headband should match. Rhinestones or diamonds may be found in your headband or crown if you have rhinestones or diamonds in your jewellery.
Also, keep in mind the importance of moderation. If your wedding gown is heavily embellished, the headband should be simple and understated to avoid looking like a Christmas tree. If your wedding gown, on the other hand, has a simple, modest cut and smooth fabric, you can definitely afford to be more extravagant with your wedding headband. Then you can choose from headbands with visible embellishments, such as the Renae floral headband with diamante flowers and pearl detailing.
It can be found in the AXESSI our online store under the "headband" tab. If you like to stand out, the pearl headband - an alloy headband with delicate pearl spray detailing - is for you. It's unquestionably a "wow" option. If your dress is boho, a headband with a floral design, such as the sunshine gold floral headband, will go perfectly with it.
Wedding headband that complements your hairstyle
You already know that your headband should coordinate with your outfit and accessories. It must, however, complement your hairstyle. Not only does it fit, but it also highlights its beauty. The great thing about headbands is that they look great on people with both long and short hair. All you have to do now is select the appropriate design.
If you have short, loose, straight hair, a subtle thin headband, such as a byzantine gold wreath headband, will not overwhelm a delicate hairstyle. The headband, on the other hand, will look fantastic if your hair is long, smooth, straight, loose, or combed into a bun or pin-up. Because of your smooth hair, all eyes will be drawn to your headband's design and shape. A simple hairstyle like this is ideal for headbands that are large or heavily embellished.
The headband is merely ornamental, emphasising healthy, lustrous hair and a lovely head shape. Richly decorated headbands with convex elements and fancy shapes are available. If you have loose, voluminous, wavy, or curly hair, narrow headbands with diamonds or small rhinestones are a good choice. They blend in beautifully with your hair, creating a very feminine and fanciful look.
For loose, lush hairstyles in the low bun style, gleaming, narrow headbands embellished with cubic zirconia, crystals, or decorative stones are ideal. A headband is the style of Rebecca diamante silver headband - embellished with delicate diamante studs and a micro diamante halo set in the fine silver band will be ideal for this occasion.