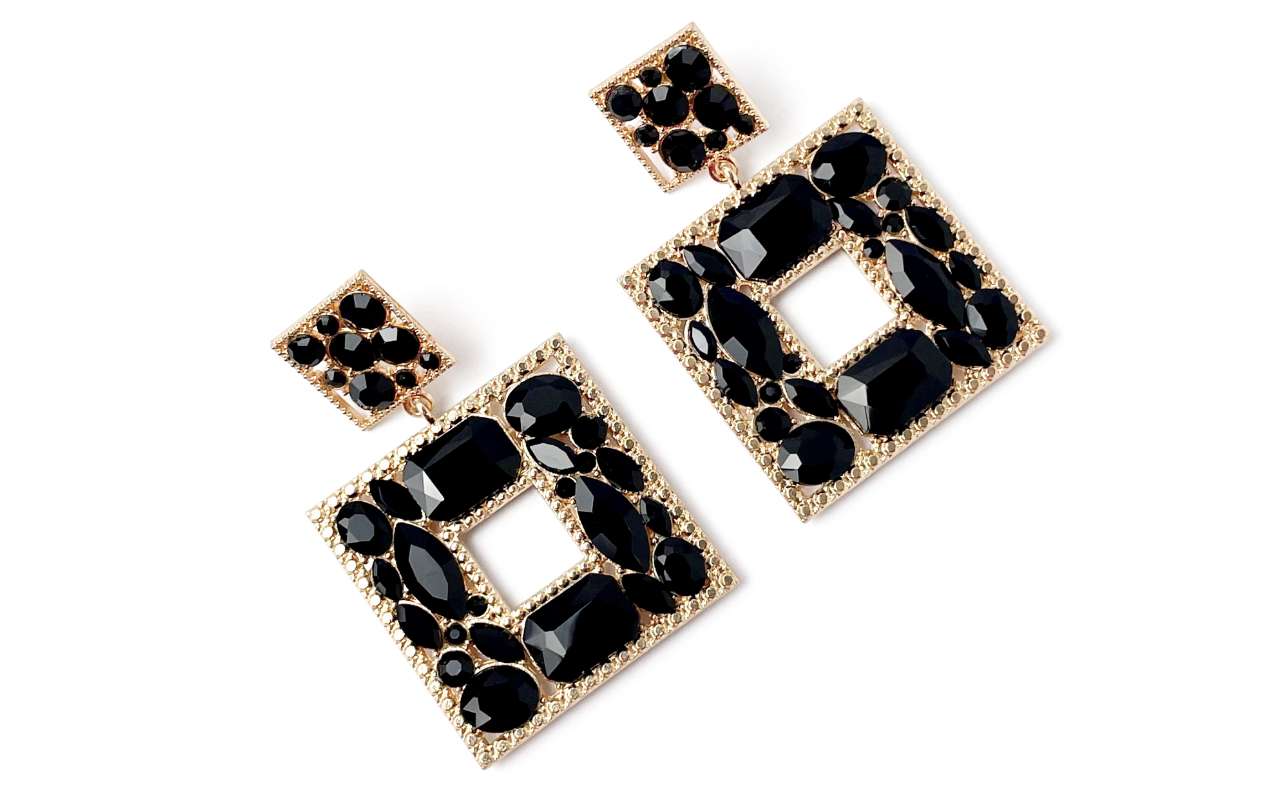 How to wear large earrings to emphasise your beauty? Here are our top tips!
Earrings are one of the oldest ornaments that have evolved over time into beautiful jewellery that reflects the woman wearing its personality and style. Earring comes in a wide range of sizes, shapes, and designs, allowing you to play around with them and wear them in non-traditional, unusual, and unique ways. Don't be afraid to express yourself, even if it means defying trends and conventions. Make your own style and have some fun with jewellery!
It's worth remembering that the world belongs to the brave, which also applies to the world of jewellery. The ability to mix and match earrings in various sets and combinations is the first step towards creating trends. However, if you'd rather follow trends than start them, that's fine as well. Fashion no longer exists within the confines of rigid frames. Different styles and forms can be mixed and matched. You have the option of experimenting with fashion. As you may know, fashion is more than just clothes; it also includes accessories, which are just as important in creating the perfect look.
In recent years, distinctive and eye-catching jewellery has become very fashionable. The main styling accent is frequently jewellery. It's no surprise that large earrings are popular among women. They are ideal for expressing your personality. AXESSI has a large selection of large earrings in a variety of shapes and colours. Continue reading to learn how to wear each type of large earring.
Large hoop earrings - for women who like an extravagance
First and foremost, ensure that the large hoop earrings you choose are of good quality. They don't have to be made of silver or gold; wood, brass, stainless steel, enamel, or leather can all be used. Hoop earrings are a staple in every woman's wardrobe. They can save the situation when you want to add some character to an otherwise ordinary outfit at the right time.
Large, ornately adorned hoops are ideal for a night out. You'll draw much attention if you wear them with a tight-fitting, plain, single-colour mini dress. With dresses and tops that reveal the shoulders and neckline, large earrings will look stunning. It's important to remember that if you're wearing large, decorative earrings, you should keep the rest of your jewellery simple.
With very short hair, pinned up hair, and loose hair, large hoop earrings look great. They can also be worn on a daily basis for a more casual look. To add a touch of pertness to your look, thick pair of silver or gold hoops with jeans, a leather jacket, and a plain white t-shirt.
Large statement earrings - chic and glamour straight from the red carpet
Large, long earrings with rhinestones, crystals, or pearls may appear to be an explosive combination. They are, however, a great accessory when they are matched to the occasion and will emphasise the character of your outfit, giving it elegance and character. Long and large earrings, especially those in the chandelier style, are very eye-catching. They're best for occasions that require a high level of elegance and sophistication.
Long earrings slenderise the neck and emphasise the collarbones. It's best to wear them with your hair up - then they will be fully visible, and no strand of hair will get tangled up in them. Large statement earrings will complete evening dresses, a women's suit or a simple cocktail dress. Of course, in such a set, high heels are mandatory.
Large geometric earrings - a strong accent to your outfit
Large earrings in geometric shapes can be a very strong styling accent. They seem massive and heavy, which is why they are perfect for subtle outfits. They look best with loose, straightened hair. They then give the entire style a futuristic look. You can wear them in a casual or elegant way. If you combine them with an elegant suit, jumpsuit or costume, you will look very modern.
Especially when it's paired with smooth pinned-up hair, they'll also look great with a pair of jeans and a tee. If you wear them with leather pants instead of jeans, they'll give you a rock look. On a long and thin face, large square and rectangular earrings will look great. If you have a round face, on the other hand, triangle-shaped earrings will look great on you.
Keep in mind that there are numerous designs to choose from. Not only gold or silver, but also rhinestones, pearls, or crystals can be found. These are the versions for a more elegant look. Large geometric earrings made of wood, leather, or stainless steel are also available. They'll be a great addition to your everyday look.