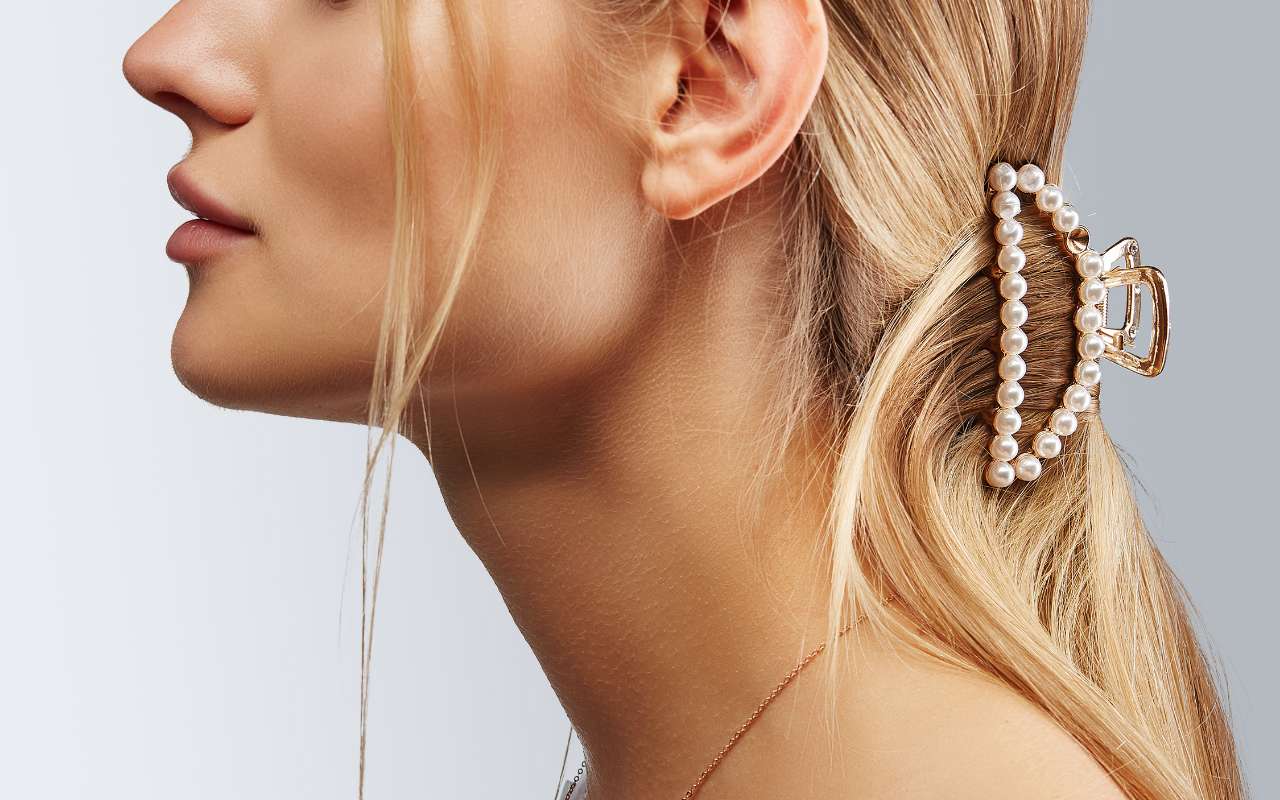 How to use a claw clip with long hair?
Where did the great comeback of claw clip come from?
Hair claw clips have been used in the shower for years, but few of us would have worn them out on the street. In the 1990s, a clip claw was a must-have accessory. They were worn by all women back then. They were convenient and easy to find. You could quickly pin up your hair with their assistance. It isn't just a relic of the past, though. We all want claw clips again after the 2018 Alexander Wang catwalk show! Large metallic (gold and silver) and black claw clips, the designer decided, could be an ornament in and of themselves, especially when paired with dark sunglasses. In his show, he wore them as if they were high-end jewellery. Alexander Wang demonstrated how claw clips, which are usually hidden in drawers or hooked to the edge of the bathroom mirror, can be used in unique, artistic stylisations in a big city style. Claw clips are expected to make a strong comeback at New York Fashion Week in 2020. Claw clips are becoming increasingly popular in red carpet stylisations of famous and popular celebrities. Famous designers have the ability to turn anything old into something new and fashionable. In the case of terry hair ties or wide hair bands, we could already see it.
How to wear a claw clip to look elegant?
Clip claws that are long and oblong will look great on the back of the head. They're ideal for long hair; simply pin the ends of your hair so that they hang freely above the comb of the clip. It's a good idea to leave a few loose strands on the sides of your face if you want to look chic while slimming down your face. On the market, you'll also find small and short clips with few teeth that can pin your hair up on top of your head. Loose pinups in the style of a bad hair day are now popular. Those who, despite meticulous preparation, appear to have been combed by the wind. They look stunning when paired with an elegant suit or dress for formal occasions. If your hair is thin and straight, use a straightener to create waves before pinning it. Then lightly mist your hair with hairspray, tousle it with your hand, and pin it up with a claw clip. Make sure the pin-up isn't too tight so that the hair strands can fall out naturally. On hot days, pinning up is also a very practical solution. Claw clips are ideal for women who have long hair, both straight and curly. A stylish low ponytail with a decorative claw clip just above the nape of the neck looks great. This hairstyle is appropriate for office work, for example. It has a classic and feminine feel to it. Perfect with a pencil skirt and a button-down shirt. Alternatively, jeans, a jacket, a white t-shirt, and high heels can be worn. It's a smart casual look that'll make you look contemporary and sophisticated. Hair clips are available in our AXESSI online store in a variety of styles. Hair clips come in a variety of shapes, colours, and sizes. There are both elegant and everyday claw clips in our collection.
Advantages of wearing a claw clip with long hair!
Hair clips come in a variety of styles. If you prefer, you can lose yourself in the world of claw clips of various sizes, beautiful colours, and interesting prints or decorations. A claw clip can be used to pin up your hair instead of using a hair elastic. The claw clip is a unique accessory, especially if it comes with additional embellishments. Another benefit is that this type of clip is simple to use. You can create an interesting hairstyle in a matter of seconds and rush to the city. Hairbands are not as safe for long hair as claw clips. Your hair will become brittle if you tie it too tightly with a hairband. Furthermore, they give you the unpleasant sensation of "pulling" your hair. Claw clips do not deform your hair, so when you remove them, your hair will still look great. A hair clip is a great summer accessory. In hot weather, the hair strands are pinned up so the neck does not sweat. Wearing this accessory also helps your clothes stay in place because hair that tends to fall out will not stick to your clothes. Hair clips go with a variety of looks, such as a jacket, jeans, athletic shoes, or a flowing dress. Clip claws with beautiful decorative stones or pearls are also appropriate for more formal occasions. You will be able to create a hairstyle in a matter of seconds, both in everyday and elegant style, with their assistance. It's a long-lasting accessory that's easy to use, and you don't have to spend a lot of money to get a nice claw clip.