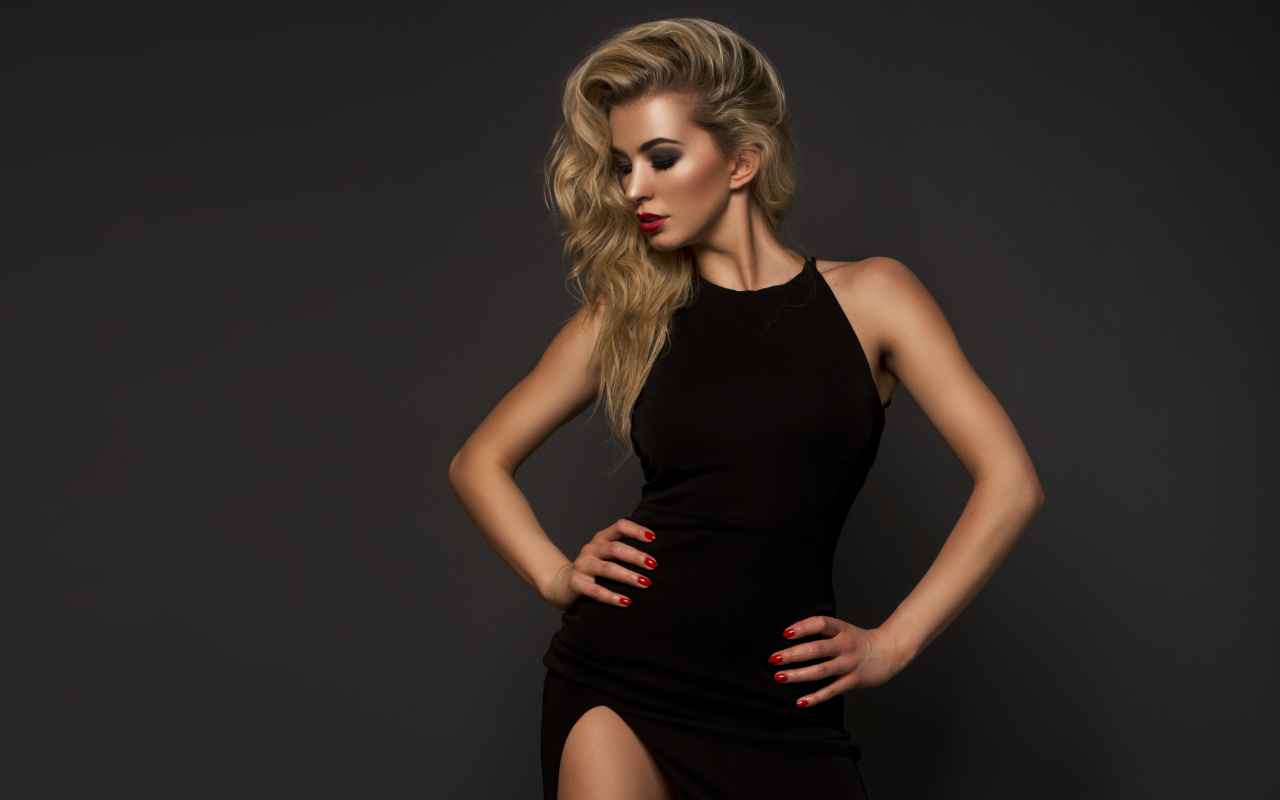 What types of earrings best complement your favourite black dress?
The black dress is a classic of feminine elegance. Probably each of us has at least one such dress in our wardrobe. Suitable for many occasions. It is perfect for a date, going to the cinema or for a family party. We also wear simple, black dresses every day. Interestingly, it doesn't have to be two different dresses. All we have to do is choose the right accessories. The selection of accessories depends on the cut and material of the dress. What accessories to choose for a black dress? To make it look fashionable and feminine?
Jewellery for a black dress - what should you look out for when choosing?
Before we start thinking about accessories, we need to take a closer look at the dress. If the jewellery is modest and minimalist, it can be really powerful. Let's pretend our little black dress has lace embellishments, ruffles, or other eye-catching details. The jewellery should be less expressive to avoid creating the impression of a Christmas tree. Shoes, handbags, hats, and spectacles are all necessary accessories. If we want our styling to look sophisticated and amazing, we must make sure that each element complements the others. For example, if a handbag has silver decorations, it is worth choosing silver jewellery. When you decide on sensual red stilettos, add a pendant with red zircon or earrings with red stones. We avoid mixing too many colours within one styling. The exceptions are informal occasions where we can go crazy mixing additions. Of course, if we want an extravagant effect.
Should you wear gold or silver earrings with a black dress?
For both daytime and evening styles, we eagerly reach for gold and silver. Only which one to bet on? In this case, follow your own preferences. Also, consider your type of beauty. People with warm skin should aim for gold. On the other hand, cool types of summer or winter can bet on silver without fear. The timeless rule is not to mix different shades of jewellery in one outfit. Therefore, try to aim for one colour. Both gold and silver go well with a black dress. We can appear better in silver or gold depending on our complexion, hair, and eye colour. Silver accessories suit those with a cool style of beauty. White gold is an alternative for them. In gold, those with a warm type of attractiveness look better. If we wear both gold and silver decorations, it's worth noting that gold will look better in instances where a special setting is required. At formal events such as galas, banquets, weddings, or New Year's Eve balls. Silver, on the other hand, has proven to be dependable in everyday conditions. It's ideal as a piece of jewellery for business or social gatherings.
What earrings should you wear with a black dress for maximum style?
The black dress undoubtedly belongs to the group of classic outfits that perfectly match any occasion. It will be a great choice for a date, evening dinner or going to the theatre. Classic, minimalist silver earrings decorated with cubic zirconia will be perfect for such a dress. It is a timeless classic that will always be fashionable and will always be liked. Such earrings for a black dress are worth choosing if you want to achieve a positive visual effect without unnecessary madness. You can also bet on classic little pearls. They are timeless and very elegant. If you want to create an elegant classic effect, earrings should be subdued and modest. The exception maybe, in some situations, be more decorated and slightly larger silver earrings. They are perfect for a great exit to the opera. Then, however, in order to maintain an elegant effect, it is better to give up other jewellery items.
How to wear earrings at a formal event
What kind of earrings for the little black dress should be worn at a ceremonial gala, banquet or prom? Usually, long dresses are worn for this occasion, and the most spectacular, ornate jewellery suits them best. Including beautiful, impressive earrings with stones, silver or gold. They must emphasize the beauty of black styling and enrich it. Long, dangling earrings will be the best possible choice here. They will emphasize a slender neck and add shine to your styling. Pearls are a beautiful setting for evening dresses. Pearl earrings come in many designs and sizes. From classic to hanging ones and those in the shape of fancy chandeliers. Choose huge, sculptural, and eye-catching shapes in addition to pearls. They will stand out beautifully against the black fabric background. For a night out, rhinestones are also a terrific option. The glitz and glam of the 1980s are back in style! Choosing all of your accessories in the same colour is also a fun alternative. For instance, a red clutch bag, red stone earrings, and red lips. It's a strong yet feminine mix.