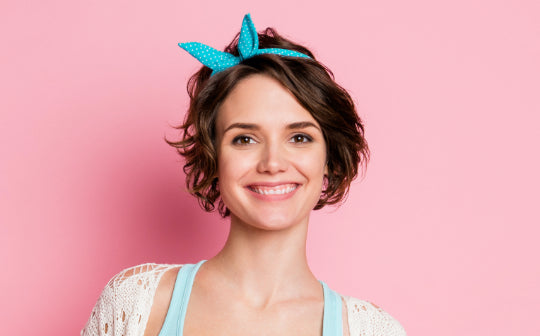 Want To Wear A Headband With Short Hair? Check Out Some Of Our Tips!
Having short hair doesn't mean you need to miss out on wearing the latest hair ornaments that have been traditionally reserved for mid-length to long-haired women. Hair accessories can be just as cute on short hairstyles. If you are unsure how to rock a headband on short hair, here are some fool-proof tips. Stick to fine headbands that won't dominate and overwhelm short hair. Fine headbands embellished with pearls, rhinestones, or diamante will draw attention without overpowering the wearer. For maximum impact why not wear two fine headbands together! Read on for more tips on how to wear a headband with short hair.
Flirty Pin-up style
Pin-up has returned as a fashion style and stayed. No wonder - after all, the pioneer of this style was the 20th-century fashion icon - Marilyn Monroe. All you need for the "Pin-up style" is an appropriate outfit, visible makeup, and a wide, satin headband in a distinctive colour, which will be a perfect addition to short hair.
Boho style and short hair - why not?
Recently, the Boho style has re-emerged especially for music festivals. The traditional Boho look is most often associated with nature, and free-flowing long hair, however, short haircuts can still rock the Boho look! Adding a floral crown or wearing floral fabric headbands tied in a knot on top of the head or a bandanna style worn with a crochet dress to make you a modern flower child!
Choosing the right headband for an evening event
For a night on the town add a jewelled headband for extra sparkle to both short hair or long. Diamante or rhinestone headbands can be worn with textured wavy tressers for contrast or slicked back on either long or short hair for extra sophistication. Going to a special event? Turn heads with a statement headband. Eye catching chunky headbands embellished with jewels, pearls or plaited velvet varieties can be complimented by subtle earrings or necklaces and a bracelet to tie it all together. For a more pared-back look, consider a padded satin headband with a pair of statement earrings to turn up the wow factor.
Wear a headband with short hair every day
In addition to all the above-mentioned values ​​and styles, it is also worth mentioning the most important advantage of wearing headbands with short hair - which is comfort. Evening facial treatments, cleaning at home and in the garden, and sometimes even working in the office, store or other places can prevent unruly strands falling on your face. It is worth having a headband at hand for its practicality. After all, you never know what the day will bring.